This is an archived article and the information in the article may be outdated. Please look at the time stamp on the story to see when it was last updated.
Police were asking for the public's help on Tuesday in finding whoever was responsible for opening fire on a family of four inside a vehicle on the 91 Freeway in Anaheim the previous night, killing a father and leaving one other man wounded.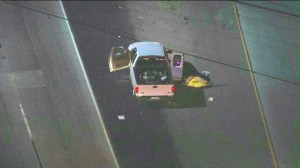 The call came in of a possible shooting on the westbound 91 Freeway east of the 57 Freeway shortly after 8 p.m. on Monday, according to a news release from the Anaheim Police Department.
When emergency personnel arrived at the scene, they found the two men had been shot inside a white Ford F-150, one of them fatally, the release stated.
The victim was identified as 32-Year-Old Agustin Villegas of Anaheim, police said. He was the front passenger in the truck.
The driver of the Ford, identified only as a 42-year-old man, was wounded and taken to a hospital.
He was expected to survive, police said.
Two male teens, ages 13 and 15, were in the backseat of the truck at the time of the shooting, but were not injured, according to Anaheim police. They were the sons of Villegas and his cousin, who was driving the vehicle.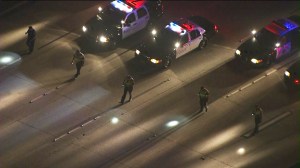 A preliminary investigation found that the truck was headed west on the 91 Freeway when the front windows shattered from apparent gunfire, police said.
It was not immediately known how many shots were fired, and whether they came from another vehicle on the freeway, or if someone opened fire off of the roadway.
"At this point we have no evidence to support that this was a car-to-car shooting, or if the shooting happened from someone standing on the side of the freeway," Anaheim police Lt. Bob Dunn said. "We do know that obviously some sort of shooting occurred, but how that happened, we're still investigating."
The driver managed to get the car to the gore point and help his son dial 911.
The shooting shut down the entire westbound 91 Freeway at Kraemer Boulevard for several hours as Anaheim police and the California Highway Patrol investigated the incident.
Traffic was initially backed up for several miles as the closures went into effect.
Some lanes were reopened shortly after midnight, with the rest of the freeway being opened later overnight.
Police were asking for the public's help in finding the shooter or shooters. They said Villegas, who was the sole provider for his family, had no known criminal ties and authorities were still searching for a motive in his killing.
"'Why this happened' is one of the questions we're trying to answer," Dunn said.
Anyone with information was asked to call Orange County Crime Stoppers at 855-847-6227 or text "OCCS" and a tip to 274637.
KTLA's Kennedy Ryan contributed to this report.
More Video: