This is an archived article and the information in the article may be outdated. Please look at the time stamp on the story to see when it was last updated.
A 24-year-old man was sentenced to 16 years to life in state prison for the 2011 stabbing death of a 12-year-old boy who was walking home from school at the time of the murder, the Orange County District Attorney's office announced on Friday.
Bryan Ocampo, a graffiti-tagging crew member who was 18-years-old when he committed the crime, was found guilty of one felony count of second-degree murder with a sentencing enhancement of personal use of a knife in December 2016, according to the DA.
Ocampo approached Juan Martinez as he walking home from Sycamore Junior High School and started a fight with the junior high school student in June 2011, the DA said.
The fight quickly escalated and Ocampo pulled out a 10-inch knife and stabbed Martinez twice in the abdomen and once in the chest while yelling "Die! Die! Die!", according to the Orange County Register.
Martinez managed to escape Ocampo and run away before collapsing in the parking lot of a nearby apartment complex.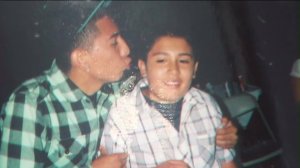 The 7th grader was transported to University of California, Irvine Medical Center in Orange where he was pronounced dead from stab wounds, the DA said.
Ocampo was identified by witnesses at the scene and arrested later that night by the Anaheim Police Department.
Martinez' sister, Jackie P., was left heartbroken by the murder, according to a victim impact statement she delivered to the court.
"My brother never got a chance to go to 8th grade, to high school, to get his driver's license or go to prom. I have an emptiness in my heart," said Jackie P.
Ocampo was a member of the tagging crew DTA – or Downtown Anaheim – and Martinez was a member of the rival tagging crew STL – or Skies The Limit – but authorities did not address whether the pair had prior altercations, according to the Register.
Ocampo told a friend before the confrontation that he was going to Sycamore to "get in a fight" in deleted texts discovered by detectives during the investigation, the Register reported.
Martinez' other sister, Lidia P., addressed the court during sentencing on Friday and shared that the family is still reeling over the death of their brother, according to the DA.
"All we have are memories of his smile. We will forever be broken over the loss of our little brother," Lidia P. said.
Ocampo was also ordered to pay restitution during sentencing.