This is an archived article and the information in the article may be outdated. Please look at the time stamp on the story to see when it was last updated.
An Anaheim police K-9 handler has been reunited with his German shepherd partner, Bruno, after the dog was shot in the face last week by a suspect.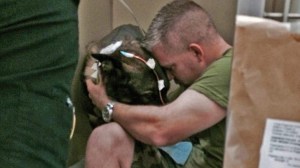 Officer R.J. Young and his newborn daughter visited Bruno for 30 minutes at Yorba Regional Animal Hospital late Monday.
Young had postponed seeing Bruno because of the dog's weak lungs and concerns that he would be too excited during a visit.
"The best part of my day was when I got to lay down with him for 10 [minutes]," Young said, in a statement posted on the Orange County Police Canine Assn.'s Facebook page.