This is an archived article and the information in the article may be outdated. Please look at the time stamp on the story to see when it was last updated.
A woman's boyfriend was arrested while allegedly trying to flee the country one day after her body was found stuffed in a bag and left in a dumpster in an Anaheim alleyway, police said Thursday.
Amer Alhasan, a 28-year-old resident of La Habra, was about to board a flight bound to Jordan via Germany when he was taken into custody at Los Angeles International Airport late Wednesday afternoon, Anaheim Police Chief Jorge Cisneros said in a press conference.
The suspect was checked in for his flight with "a significant amount of personal belongings" in tow at the time of his arrest, according to Sgt. Daron Wyatt.
"If we were about three hours later, he would have been out of the country," Wyatt said.
Investigators said Alhasan was in a relationship with Tiyanie Ly at the time of her death.
Ly, a 38-year-old mother of three who resided in Santa Ana, was found by a man picking through garbage for recyclables before dawn Tuesday morning in an alley in the 2100 block of South Balboa Plaza.
Her body was intact but in "some type of a luggage, either a suitcase or duffel bag," according to Wyatt. Detectives are still not sure when she was killed, and did not release further details Thursday on her injuries or cause of death, saying it could interfere with their investigation.
Authorities know that Ly and Alhasan were a couple, but said other details surrounding their relationship are murky, such as where they met and how long they were together.
Detectives are looking to speak with anyone who knew them, as well as anyone who may have dated Alhasan before. He was accused of assaulting at least one former girlfriend, and it's likely he was involved in other domestic violence incidents, police said.
Police said they have reports that he may have recently committed a sexual assault in Jordan, where he has familial ties, then fled back to the U.S., where he was born.
Homeland Security officials and Customs and Border Protection assisted in tracking and arresting the suspect, Cisneros said.
Although investigators have collected a good amount of evidence, "nothing of forensic nature led to his arrest" because "unlike on television, it takes a while to get results back," Wyatt said.
Ly's body, however, was identified by Wednesday morning.
Her loved ones had not been able to contact her but had not yet reported her missing, Wyatt said.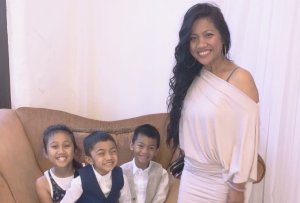 Ly's brother-in-law Adam Margaros said she worked a graveyard shift as an ultrasound technician but would always take her kids to school. The last time they saw her was Monday morning, when she dropped them off.
When she didn't return from work to take them Tuesday morning, the family began to worry.
"It was kind of strange because we know that she would never miss picking up the kids," Margaros said.
After seeing news reports of the grisly discovery Tuesday morning, her family called police to ask if she may have been a victim, officials said.
"We had heard the reports of what had happened in Anaheim and it was heavy in our hearts," Margaros told KTLA. "Everybody was really worried because it seemed like it was at the right time in the right area."
Ly and her children — a 10-year-old daughter and two sons, ages 8 and 4 — lived with her parents. But she kept her personal life to herself, and her family didn't know much about Alhasan.
"We relied on her phone and stuff like that to find who he was, and from there they got him," Margaros said.
The family said they're grateful to Anaheim police for their quick work, and they can now begin the process of helping her children process their loss.
"She's a great person," Margaros said. "She's one of those types of people that have a big heart, loves everyone. Obviously for the family this is a huge shock."
Detectives are now trying to piece together where and when exactly Ly was killed. Since neither she nor Alhasan lived in Anaheim, they're also not sure how the location where her body was found is related to either.
However, Wyatt said Alhasan may have lived in Anaheim in the past because the area where her body was found was somewhat obscure.
The suspect's bail has been set at $5 million, but investigators are working on filing enhancements to increase bail "because he's an obvious flight risk," Wyatt said.
Police anticipate the Orange County District Attorney Office's will issue a criminal complaint in the case sometime Friday.
Ly's family has set up a GoFundMe campaign to help raise money for her children and memorial service.
Anyone with information was asked to call Crime Stoppers at 855-847-6227 or send an email to www.OCCrimeStoppers.org.
Editor's note: This story has been updated to reflect new police information on the spelling of the victim's name.