This is an archived article and the information in the article may be outdated. Please look at the time stamp on the story to see when it was last updated.
City officials in Anaheim urged people Thursday to lobby against the idea of putting a new power plant near some residential neighborhoods.
The area located just off the 57 Freeway near Katella Avenue and Ball Road used to be a water basin owned by the Orange County Water District.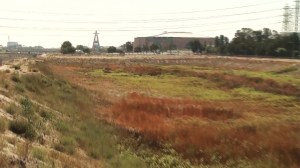 The OCWD was reportedly in talks with a power company, Competitive Power Ventures,  about selling the land so a power plant could be built.
City officials have suggested the land just north of Angel Stadium be used to build a park.
"We feel the land is more compatible with its intended land use which is residential neighborhoods and homes," city spokeswoman Ruth Ruiz said.
However, power plants are approved by the state, which would leave the city of Anaheim with few options to stop the development.
Officials opposed to the possible power plant asked residents lobby the OCWD for the park idea.
"A 300 to 400 megawatt facility will require six to eight different stacks to provide the power and to be part of the operations. We feel that that's not compatible with the existing land use in that area. We would love to see it for the residents and the neighbors," Ruiz said.