This is an archived article and the information in the article may be outdated. Please look at the time stamp on the story to see when it was last updated.
Six passengers were assisted off the Angels Flight Railway in downtown Los Angeles after one of the historic cars derailed Thursday morning.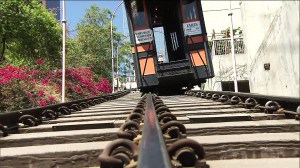 The Los Angeles Fire Department responded to the incident at West Third and South Hill streets at about 11:30 a.m., according to officials.
When crews arrived, they found one of the trains was off the track, Assistant Chief Ralph Terrazas said.
"The cleats came off, the rails separated from their normal position causing the wheel to come off the rail," Terrazas said.
Officials secured the trains while investigators worked to determine what caused the cleats to come off.
"In an abundance of caution, we're just making sure that neither of the trains are going to move any further," Terrazas said.
None of the passengers was injured in the incident, according to Terrazas.
The historic railway opened in 1901 and was shut down in 2001 after an accident that killed one man. Called the "shortest railway in the world," 298-foot Angels Flight reopened in March 2010.