This is an archived article and the information in the article may be outdated. Please look at the time stamp on the story to see when it was last updated.
The teen shot and killed by Los Angeles police officers after a pursuit was identified by family and friends Saturday night.
Carnell Snell Jr., 18, was fatally shot around 1:40 p.m. on 107th Street and Western Avenue following a pursuit of a stolen vehicle.
Officers decided to pursue the vehicle after noticing paper license plates, officials said. Police attempted to pull the car over but the driver allegedly fled.
During the pursuit two people got out of the car and ran while the driver got away, according to police.
"The officers gave chase, a foot pursuit, and went eastbound at some point on 107th Street to the rear of a residence," said Sgt. Barry Montgomery. "It was at that time that the officer-involved shooting occurred. The officers summoned paramedics who responded to scene, and unfortunately the suspect succumbed to his injuries and was pronounced dead at the scene."
Witnesses told KTLA they heard four or five gunshots and Snell was running away with his hands in the air when he was shot.
"At a certain point we have to say we don't care what your story is," said Melina Abdullah, Black Lives Matter activist. "This is a 18-year-old boy, this is somebody's son, this is somebody's friend, this is somebody's brother and you killed him. I don't care what your story is. I believe the community; I don't believe the lying police."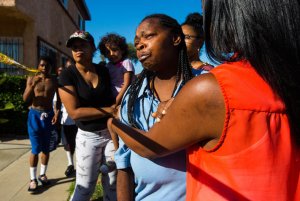 It is unknown what lead to shooting and a gun was recovered at the scene, according to police.
Crowds gathered in South Los Angeles immediately following the shooting and began shouting at police and photographers.
Some officers changed into riot gear during the confrontation but later removed the gear after tensions died down, officials said.
"Somebody needs to be prosecuted for murder," said Angie Erwing, a protester. "They're killing us, they're taking us out. Why? Why? It breaks my heart. Why? Come on, it's too many stories over and over again. They killing us. Why?"
Protesters continued to march and vocalize their feelings throughout the night. The shooting is currently under investigation, according to the Los Angeles Police Department.