This is an archived article and the information in the article may be outdated. Please look at the time stamp on the story to see when it was last updated.
An animal trailer overturned after a crash on the 210 Freeway in Sylmar Wednesday, prompting the rescue of several farm animals, the closure of multiple lanes of travel and miles of traffic backup.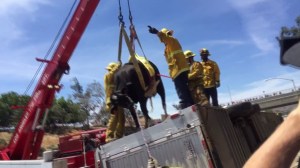 The collision occurred just before 11 a.m. on the westbound 210 Freeway at Hubbard Street, according the California Highway Patrol's online traffic incident log.
Aerial video showed a Ford F-450 pickup truck that was towing a trailer went up the side of an embankment, and the trailer turned onto its side on the right shoulder.
Three sheep, two pregnant cows and a dog were in the 30-foot trailer, David Ortiz of the Los Angeles Fire Department said at the scene. Forty city firefighters responded, along with two ambulances, he said.
It appeared the truck's driver lost control when tread separated on one of the Ford's tires, a CHP officer on scene said. The driver was hospitalized in serious condition, Ortiz said.
Authorities easily removed a dog and sheep from the trailer, aerial video from Sky5 showed.
The rescue of the cows was much more complicated. Firefighters hoisted one cow out of the trailer at about 1:30 p.m., and the second animal was hoisted out just before 2 p.m.
"One of the cows is in distress, and right now it's a rush to try to get these cows … into veterinary care as soon as possible," Ortiz said.
The cows were sprayed with water to cool them down and then placed into an L.A. Animal Services trailer. They were transported to city shelters, CHP said on Twitter.
One cow was euthanized due to a broken leg, authorities said.
The Hubbard Street on-ramp was shut down, and all lanes were temporarily closed while the cows were offloaded. A SigAlert was issued at 12:15 p.m., and traffic was backed up for miles.
All lanes were reopened about 5 p.m.
More video: