This is an archived article and the information in the article may be outdated. Please look at the time stamp on the story to see when it was last updated.
An El Niño-related storm system brought more rainfall to Southern California Wednesday, prompting mud to flow across Ventura County roads and snow to offer some of the best conditions winter sports lovers had seen in Big Bear in years.
Potential impacts of Wednesday's storm included debris flow in burn areas, urban roadway flooding, downed trees and power lines, and "dangerous winter storm conditions," according to the National Weather Service.
Moderate to heavy rainfall was predicted in Los Angeles County between 10 a.m. and 4 p.m., bringing 1 to 3 inches, and heavier rain would likely be seen in Ventura County between 9 a.m. and 3 p.m.
Parts of L.A. could see up to 5 inches if the weather service's prediction for a second period of rainfall Wednesday leading into Thursday came to fruition.
The northwest to southeast moving storm system began dropping heavy rain in Ventura County's Santa Paula, Filmore and Camarillo Springs areas by 10:30 a.m.
A Red Cross shelter was reactivated for people living in the Camarillo Springs burn area Wednesday morning — located at 1200 Leisure Village Dr. — after temporary voluntary evacuations were put in place Tuesday. More than 24,000 acres burned in the area in 2013 after a moving vehicle on the 101 Freeway sparked a blaze.
The rain prompted mud to flow into several lanes of traffic, video posted to Twitter by the Ventura County Sheriff's Department showed, and drivers were warned they may experience delays along Highway 101 and Pacific Coast Highway.
The weather service said the Solimar and Springs Fire burn areas should also be monitored, and Ventura County officials feared if thunderstorms moved over the two locations, rainfall rates could exceed the debris thresholds.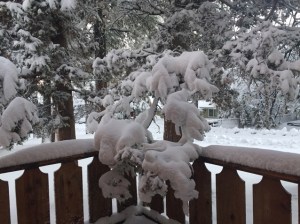 There was a "slight chance" of thunderstorms most of the day Wednesday, and rainfall could reach an inch per hour during stronger thunderstorms, according to the weather service.
A flash-flood watch was issued for burn areas across Ventura County, as well as L.A. County's Colby, Williams and Cabin fire areas.  The warning was expected to remain in effect throughout Wednesday as "another fast-moving cold front" loomed.
The "dangerous winter storm" will also bring "near blizzard conditions" to mountain areas, where gusty winds could reach 50 to 60 mph, and snow was predicted to fall at 5,000 feet, with an additional 1 to 2 feet above 6,000 feet.
Heavier showers and thunderstorms at 4,000 feet may also bring snow.
Some 10 inches had already fallen in Big Bear on Tuesday, and Miles Fulton, who lives in the area and works at the Snow Summit, said "another big day of snowfall" was expected Wednesday with 11 to 17 inches expected.
The conditions were "the best we've had in years," Fulton said, adding that it had been at least five years since he had seen a storm that big in the area.
A 4.5-magnitude earthquake some 35 miles away in the Banning area Wednesday morning also shook 12 inches of powder "off the trees and onto the ground where we can ride it," Big Bear officials tweeted.
Snowfall was expected to continue Thursday, and Fulton said as much as 36 inches could be seen by the end of Thursday.
Wednesday's storm system comes a day after more than 2 to 3 inches of rain fell in parts of L.A. and Ventura counties, and downpours broke a record at the Los Angeles International Airport, with 1.42 inches.
On Tuesday, rain prompted a mudslide that blocked part of Silverado Canyon Road in the Santa Ana Mountains, and several weather events were captured on camera, including fast-moving floodwaters that inundated a backyard in Monrovia, firefighters saving a dog from a rain-swollen wash in the West Hills area, and water sweeping trashcans down a Highland Park street.
The storm systems were the first associated with El Niño, and should be taken seriously, according to officials.
"El Niño storms: it's steady, not spectacular. But it's relentless," Bill Patzert, a climatologist at NASA's Jet Propulsion Laboratory in La Cañada Flintridge, told the Los Angeles Times. "It's not 10 inches in 24 hours and nothing afterward. It's a 1-inch storm, a 2-inch storm, followed by a 1-inch storm, followed by a 2-inch storm."