This is an archived article and the information in the article may be outdated. Please look at the time stamp on the story to see when it was last updated.
LOS ANGELES (KTLA) — Southland residents were looking for ways to stay cool on Tuesday, with triple-digit temperatures expected in many areas, forecasters said.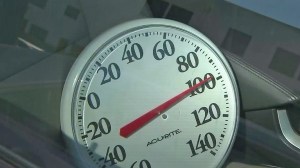 An area of high pressure was expected to bring one more day of hot weather to inland areas, according to the National Weather Service.
Temperatures well over 100 degrees were forecast for the San Fernando Valley.
Conditions were expected to be even hotter in the Inland Empire.
A slow cooling trend will begin through the later half of the week, according to the NWS, bringing some relief.
People were advised to drink plenty of water and limit strenuous activities to the early morning or evening hours.
Officials also reminded people to pay close attention to children, the elderly and pets.