This is an archived article and the information in the article may be outdated. Please look at the time stamp on the story to see when it was last updated.
It began as a $280 citation for using a video camera in a courthouse.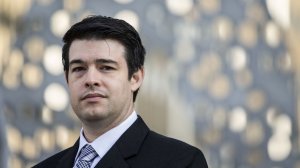 But to Gary Gileno, at stake was much more than the couple hundred bucks he was told to pay.
An attorney for the anti-illegal immigration activist and prolific YouTuber told a judge Friday that the four-hour trial over the fine was really about preventing government abuse of power, protecting the rights of journalists and ensuring that citizens can hold public officials accountable.
"If he is convicted … it'll chill speech, it'll chill journalism, it'll say the federal government has a superpower to do whatever it wants," attorney William Becker said. "This is unprecedented. This is what we expect to see in a police state."
Read the full story on LATimes.com.