This is an archived article and the information in the article may be outdated. Please look at the time stamp on the story to see when it was last updated.
Anti-Donald Trump protesters burned a piñata and shouted chants of "Not my president" in the streets of downtown Los Angeles following Tuesday night's presidential election results.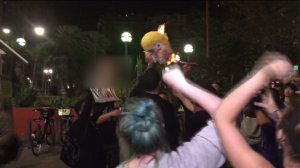 Video showed 50 to 75 protesters had gathered in Pershing Square about 3:30 a.m. Wednesday when someone lit a piñata on fire that was made to resemble Trump's head.
As the piñata burned, a second person lit an American flag on fire, but others quickly extinguished it.
The protesters repeatedly shouted "Not my president" as they expressed their outrage and disappointment.
"It shows how divided our country really is … We have a president that stands for racism. We have a president that stands for sexual harassment, and will sweep it under the rug," one man said.
A larger protest was held at UCLA about 12:30 a.m., where 500 to 600 students marched in the streets around Westwood Village.
The rally remained peaceful and no injuries were reported.