This is an archived article and the information in the article may be outdated. Please look at the time stamp on the story to see when it was last updated.
Anti-Donald Trump protesters took to the streets of downtown Los Angeles Wednesday evening, resulting in the temporary closure of the 101 Freeway and multiple arrests.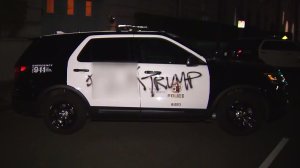 Police responded to the incident by initially giving the protesters a "wide berth" to allow them to exercise their rights, Los Angeles Police Department spokesman Josh Rubenstein said.
Amid chants of "Not my president," and "Respect all women," the protesters proceeded to torch a giant Trump head in effigy and spray paint news vans and the Los Angeles Times building, the Los Angeles Times reported.
Things began to get out of hand between 7 p.m. and 8 p.m., Rubenstein said.
"Folks started getting a little riled up and they started throwing rocks, destroying property, and throwing bottles at officers," Rubenstein said.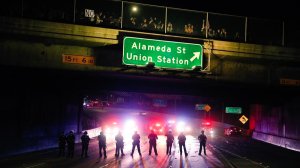 Some officers suffered minor injuries during the rally, Rubenstein said.
Video showed a LAPD patrol vehicle spray painted with F--- Trump on the passenger-side door.
A group of protesters ended up entering the 101 Freeway near Alameda Street about 10 p.m., the Times reported.
The freeway had to be shut down while officers in riot gear responded to the protesters.
Police had cleared the freeway by about 12:45 a.m., but it remained closed until 4 a.m. while crews cleaned up the debris left behind.
About 28 arrests were made during the incident.
The protest was similar to other anti-Trump demonstrations that were held around the nation Wednesday night.
It was unclear if the protesters planned to return Thursday night.