This is an archived article and the information in the article may be outdated. Please look at the time stamp on the story to see when it was last updated.
For the hundreds that gathered in Beverly Hills Tuesday afternoon, the demonstration against President Trump resembled a festival more than a protest. Street vendors sold hotdogs, a live band played music and a stage was set up for speakers.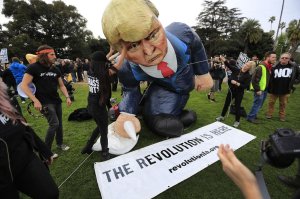 The event brought a wide array of activists, including LGBTQ and immigrant right groups. Some protesters took advantage of the mud-covered areas in the park that formed after the rain to write "Dump Trump" on the ground.
Riley Parks McDonald, 52, said he started protesting at around 2 p.m. The Echo Park resident said the diverse crowds and festive atmosphere made him feel empowered.
"We can't be complicit with what's going on," he said speaking on Trump's policies affecting immigrants and the LGBTQ community.
The protest against #Trump in Beverly Hills is more like a festival, with people dancing to Mexican folk songs, and vendors selling hot dogs. The strongest voice out here are young immigrants, joining them are LGBTQ right activists and others. pic.twitter.com/W84geRY3JC

— Melissa Etehad اتحاد (@melissaetehad) March 14, 2018
Protesters rally against @POTUS in Beverly Hills pic.twitter.com/ipMV04cBUx

— Allen J. Schaben (@alschaben) March 14, 2018

Read the full story on LATimes.com.