This is an archived article and the information in the article may be outdated. Please look at the time stamp on the story to see when it was last updated.
A woman jumped from a second-story window in Toluca Lake to escape an apartment fire that started at neighboring under-construction building, which was destroyed in the Friday afternoon blaze.
One firefighter was hospitalized for smoke inhalation after the fire, which was initially reported at 12:15 p.m. in the 4600 block of North Riverton Avenue (map), Margaret Stewart of the Los Angeles Fire Department said.
One of the firefighters at the scene was taken to the hospital in stable condition after suffering smoke inhalation, Stewart said.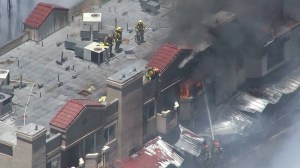 The two-story building was engulfed in heavy flames, Stewart said.
"Under construction – it burns quickly. It burns hot and fast," she said. "This is a tough fight."
Witnesses captured video of the structure collapsing, and nearby cars and a neighboring, occupied apartment building caught fire. One man described a "wall of flames."
"Absolutely crazy. The fire was immense and enormous, super hot — way hotter than I thought it would be," said Michael Gagne.
Radiant heat from the fire set the three-story complex next door ablaze, and firefighters aggressively attacked the flames at the second building, according to Stewart.
A woman in her mid 30s jumped out of a window to avoid the flames. She was not injured in the jump but suffered some minor burn injuries, Stewart said.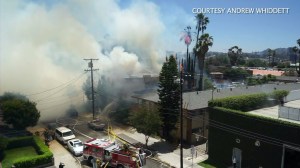 "I saw a woman from the apartment next to us — she was half-way out of the window and she was crying. She was like, 'I can't do this, I can't do this,'" said witness Tracy Hayden.
Onlookers encouraged the woman to jump, saying she could make it, Hayden said.
The woman was assessed at the scene and declined transport to a hospital, according to Stewart.
A 36-year-old woman from a building across the street was also hospitalized for smoke inhalation, Stewart said.
The blaze took 122 firefighters just over an hour to extinguish, according to Stewart.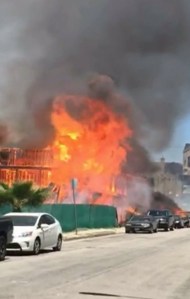 The building that was under construction was a complete loss, but "aggressive, quick action" kept the adjacent building from becoming completely involved, she said.
Residents in the area said the building that collapsed had been under construction for several years and was in the process of being demolished.
Three cars near the construction site appeared to have been damaged in the incident, aerial video from Sky5 showed.
Embers flying from the blaze set part of Jennifer Zharinova's yard on fire a block away. She said she feared her home would go up in flames due to the dry and windy conditions, but the house did not burn.
Several people were displaced, and the American Red Cross was on scene, offering help.
The cause of the fire was under investigation.
More Video: