This is an archived article and the information in the article may be outdated. Please look at the time stamp on the story to see when it was last updated.
Police investigating a home-invasion robbery in Van Nuys Monday morning discovered as many as 150 marijuana plants in the house, triggering a narcotics investigation, according to LAPD.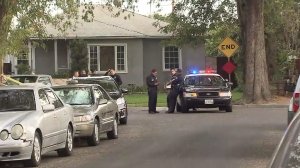 Officers responded between 5:45 and 6 a.m. to a report of a home-invasion robbery in the 7800 block of Peach Avenue, Los Angeles Police Department Detective Ben Herskowitz said.
A male resident told police he had been threatened at gunpoint and beaten with a metal pipe. The victim was transported to a local hospital and treated for a laceration on the head.
He is expected to be OK.
Investigators believe the residence was targeted. Police uncovered between 100 and 150 marijuana plants inside the house, according to Herskowitz.
"It appears to be a home marijuana grow," he said.
The robbers took off with about 50 of the plants and remained at large as of late Monday morning, according to the detective.
"Unfortunately, especially in residential areas, people decide to grow marijuana, they can expect that everyone knows that they're growing marijuana in the neighborhood. Friends tell friends who tell friends and they become targets,"Herskowitz said.
He did not have a description of the wanted subjects. No one has been taken into custody or detained.
Police have not released any additional information about the incident.