This is an archived article and the information in the article may be outdated. Please look at the time stamp on the story to see when it was last updated.
An apparent road-rage crash involving a motorcyclist and the driver of a sedan was captured on cellphone video Wednesday morning on the 14 Freeway in Santa Clarita.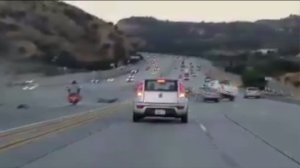 The crash was reported about 5:45 a.m. Wednesday on the southbound side of the 14 Freeway near Newhall Avenue in Santa Clarita, the California Highway Patrol reported.
Tim Morrison and Chris Traber, who shot the video, were on their way to work when they say the driver of the silver sedan cut in front of the motorcyclist.
The incident continued to escalate between the two motorists so Traber decided to start recording on his cellphone.
The video shows the motorcyclist apparently kicking the side of the sedan, which then swerves into the motorcycle.
The motorcyclist manages to avoid crashing but the driver of the sedan loses control and then hits the median before traveling into traffic and crashing into a white Cadillac Escalade.
The Escalade ended up on its roof as a result of the crash and the driver was taken to a local hospital with moderate injuries, officials said.
Morrison said an officer at the scene gave him an update on the Escalade driver's condition.
"Pretty intense, so I'm just glad that the guy's OK. The officer told me yesterday that he seems to be OK," Morrison said.
The motorcyclist did not stop following the crash and authorities are investigating the incident as a possible hit-and-run.
Anyone with information about the incident can call the CHP Newhall area office at 661-294-5540.
KTLA's Cindy Von Quednow contributed to this story.