This is an archived article and the information in the article may be outdated. Please look at the time stamp on the story to see when it was last updated.
An attorney for Lee Baca tried to convince a federal appeals court Tuesday that the former Los Angeles County sheriff was unfairly convicted last year of obstructing an FBI investigation and lying to investigators because of errors made by the judge at his trial.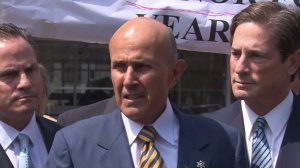 A three-judge panel from the Ninth Circuit Court of Appeals peppered the attorney, Benjamin Coleman, with questions and challenged his claim that the jury should not have been barred from hearing testimony about Baca's Alzheimer's disease or about an exchange between Baca and an aide.
Assistant U.S. Atty. Bram Alden rebutted the claims, telling the panel that the decisions of U.S. District Judge Percy Anderson, who handled Baca's trial, had been correct.
Anderson sentenced Baca to three years in prison and denied the ex-sheriff's request to remain free pending his lengthy appeal. An appeals judge later overruled that decision, allowing Baca to stay out of prison.
Read the full story on LATimes.com.