This is an archived article and the information in the article may be outdated. Please look at the time stamp on the story to see when it was last updated.
One of the children critically injured when a large pine tree collapsed outside the Kidspace Museum in Pasadena was upgraded to serious condition Wednesday, while a second child remained in critical condition, officials said.
The tree fell at about 4:45 p.m. Tuesday, striking a group of day campers who were outside the museum in Brookside Park (map) waiting for their parents to pick them up.
Six children were treated at the scene and released to their parents, while two others were taken to Los Angeles County-USC Medical Center in critical condition.
A third child was brought to the hospital by relatives and was later released.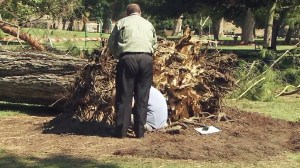 "On behalf of the City, I want to extend our thoughts and prayers to the injured children, especially those still hospitalized, and their families.  We are praying for their full recovery," Pasadena Mayor Terry Tornek said.
On Wednesday, one of the children remained in critical condition, while the other was listed in serious condition, according to a media statement from the medical center.
A certified arborist for the city was unable to conclude why the tree fell during an preliminary assessment Tuesday, a news release issued by the city of Pasadena stated.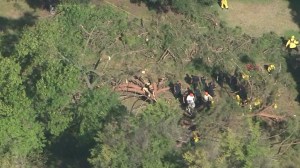 To continue the investigation, the city hired a private, independent arborist to inspect the tree and help determine the cause of the fall, according to the news release.
"Our public spaces, especially the Arroyo, are unique and draw thousands of visitors each day, so it is a priority for the city to maintain both the beauty and safety of our parks and open spaces for all to enjoy," Tornek said.
The area around the accident site would remain closed to the public until further notice, according to the news release.