This is an archived article and the information in the article may be outdated. Please look at the time stamp on the story to see when it was last updated.
During the continuing search for an off-duty Arcadia firefighter who has not been seen since he chased after his runaway dog while on a hiking trip in Los Padres National Forest on Friday, authorities found a few clues on Tuesday.
Mike Herdman, 36, was setting up camp in the Sespe Wilderness area (map) with a friend when his dog took off for an unknown reason, Ventura County Sheriff's Office Sgt. Eric Buschow said.
Herdman was barefoot and wearing only shorts and a T-shirt when both men chased after the dog and became separated, Buschow said.
"Unfortunately, because his friend took a day and a half to get out of the mountains, because they were two days back on foot when this happened, this wasn't reported to us until Sunday night," Buschow said. "He had already been out for two nights on his own when we first got notified."
The seven-year veteran had no food or water with him at the time, authorities said.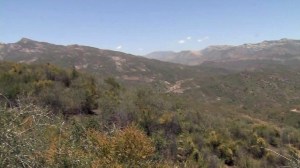 Authorities began looking for Herdman Monday morning in the area that Buschow described as rough and steep, with a vast backcountry.
On Tuesday, Herdman's backpack and footprints were found, authorities on scene said.
Teams on the ground, on horseback and in the air were searching, beginning at the site where the two friends had camped on Friday night.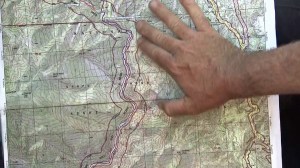 The 45-person search and rescue crew was being ferried via helicopter into remote areas to search for Herdman Tuesday, Buschow said.
"We've just begun inserting rescuers back in backcountry to where the victim was last seen," Buschow said. "It's a significant distance away from here."
The Sheriff's Office had said that Herdman and his friend were hiking toward the Tar Creek trail, a popular though remote destination that can be reached from the small city of Fillmore.
Authorities originally stated that Herdman's age was 34.
KTLA's Steve Kuzj and Melissa Pamer contributed to this article.