This is an archived article and the information in the article may be outdated. Please look at the time stamp on the story to see when it was last updated.
A potentially armed, distraught man was barricaded inside a veterans hall in Winnetka and a SWAT team was in an hours-long standoff that ended Friday afternoon.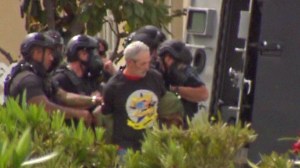 The 52-year-old man was seen being taken into custody just before 3 p.m., long after police received a call about a barricaded person in the 6500 block of Corbin Avenue (map) around 7:30 a.m.
Police were not releasing his identity as of early Friday evening.
The man had gone into the Disabled American Veterans Hall, with which he had been associated, Los Angeles Police Department Sgt. Barry Montgomery said. A relationship issue led to the barricade situation, Montgomery said.
He may have served in the military for "about six months," Montgomery said.
After a SWAT team and some 30 officers responded, what appeared to be a tear gas canister was launched through a window in the building just before 1 p.m. Within seconds, it came back out the window, apparently having been thrown by the person inside.
The canister let off plumes of smoke next to SWAT officers.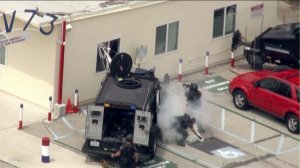 The man's ex-wife was taken to the scene, authorities said, and audio recordings could be heard being projected into the building. They were family members begging him to surrender, police said.
There were no hostages and the individual was alone, Officer Parra said.
It was unclear if the person was armed, LAPD spokesman Richard French had said.
The man repeatedly went in and out of the building, aerial video showed. He was taken into custody, LAPD Officer Rosario Herrera confirmed at about 3 p.m.
Corbin Avenue was closed near Victory Boulevard during the standoff.
#LAPD caution: – Police activity in the area of Corbin ave / Kittridge and surrounding area. Please avoid the area.

— LAPD HQ (@LAPDHQ) April 25, 2014
KTLA's Ashley Soley-Cerro, Melissa Pamer and Courtney Friel contributed to this article.