This is an archived article and the information in the article may be outdated. Please look at the time stamp on the story to see when it was last updated.
San Bernardino officials have identified and arrested a man who was critically injured after being shot by officers following a pursuit in San Bernardino, police said Monday.
Sixto Casillas, 19, was arrested on suspicion of assault with a deadly weapon on a police officer and felony evading after being taken to a hospital.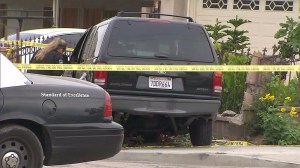 Authorities initially responded to a family disturbance about 3 p.m. Sunday, said  Lt. Rich Lawhead of the San Bernardino Police Department.
The driver led police to his residence in the 2800 block of North Glenview Avenue where the pursuit came to an end after a crash, Lawhead said.
Casillas exited the car and ran, then he took out a handgun and put it to his head, Lawhead said.
Officers and deputies from the San Bernardino County Sheriff's Department opened fire and struck the man several times after he allegedly pointed the gun at them.
He was taken to a local hospital, where he was listed in critical condition, Lawhead said.
KTLA's Matt Phillips and Cindy Von Quednow contributed to this report.