This is an archived article and the information in the article may be outdated. Please look at the time stamp on the story to see when it was last updated.
Police are searching for an armed robber who struck a Little Caesars Pizza in Buena Park Monday night and may be linked to a similar robbery at another pizza restaurant last week.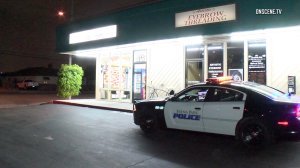 Monday's robbery was reported about 9:50 p.m. at the Little Caesar's Pizza located in the 7900 block of Dale Street, Buena Park Police Department Sgt. Michael Galos confirmed.
The robber had his face partially covered by a black hooded sweatshirt when he walked into the restaurant with a handgun and demanded cash, Galos confirmed.
The employees complied with the robber, who fled after receiving an unknown amount of money.
None of the employees were injured in the robbery, Galos confirmed.
The robber was described only as a white male, which matched the description of a robber who struck a Domino's Pizza in Buena Park on Thursday.
Investigators are not sure if the robberies are connected, but there are similarities, Galos said.
KTLA's Alexandria Hernandez contributed to this report.