This is an archived article and the information in the article may be outdated. Please look at the time stamp on the story to see when it was last updated.
LAPD asked for help Tuesday identifying an armed man who robbed or attempted to rob two chain restaurants in Westchester within about 10 minutes on Friday.
Officers were first called to an IHOP in the 8600 block of Sepulveda Boulevard about 9:45 a.m. May 29 after a man with a handgun placed a brown paper bag on the restaurant's counter and demanded cash from a waitress.
The attempted robber was startled, however, and ran from the IHOP, fleeing in a white Ford Focus eastbound on Manchester Avenue, according to a news release from the Los Angeles Police Department.
Then, about 10:55 a.m., the same man followed essentially the same robbery pattern at a Denny's Restaurant in the 8600 block of Bellanca Avenue, about 1 mile away.
In the second crime, the waitress complied and the man fled with an undisclosed amount of money, driving eastbound on Arbor Vitae towards Aviation Boulevard.
The robber was described by police as a Hispanic or light-skinned black man, 40 to 50 years old, with a thick, dark mustache and possibly a goatee. He is about 5 feet 7 inches tall and weighs between 150 and 175 pounds, police said.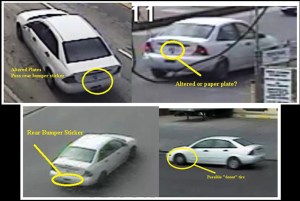 The man was last seen wearing a brown beanie or knit cap, a black jacket with a gray liner, light blue jeans and black boots, according to LAPD.
Police said he should be considered armed and dangerous.
His getaway vehicle was described as a first or second generation 1998 to 2010 white, four-door Ford Focus. The vehicle had altered or dealer plates and a rear bumper sticker.
Anyone with information was asked to call LAPD Pacific Division Robbery Detective Jurado at 310-482-6373, or the Pacific Division watch commander at 310-482-6357.  Anonymous tipsters may call CrimeStoppers at 800-222-8477.