This is an archived article and the information in the article may be outdated. Please look at the time stamp on the story to see when it was last updated.
A search was underway Saturday for two armed robbers who stole designer jewelry and thousands of dollars in cash from a home in Woodland Hills, authorities said.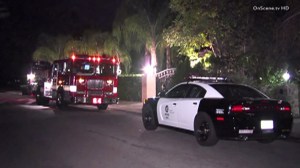 The men broke into the house in the 20100 block of Wells Drive (map) around 1:55 a.m., according to the Los Angeles Police Department.
Armed with a handgun and a taser, they pistol-whipped a male resident after entering the home, the LAPD.
The victim was shaken up, but otherwise not seriously injured, police said.
The thieves fled with between six and seven Rolex watches, and up to $30,000 in cash, according to police.
One of the armed robbers was wearing a mask and a Louis Vuitton belt, according to investigators.
The home was equipped with security cameras, but it was not known if they were recording during the robbery.
The LAPD Topanga Division was investigating, and urged anyone with information to give them a call.