This is an archived article and the information in the article may be outdated. Please look at the time stamp on the story to see when it was last updated.
An "armed suspect" was found dead in an East Los Angeles home following an hourslong barricade situation that began when he opened fire inside the residence on Tuesday morning, authorities said.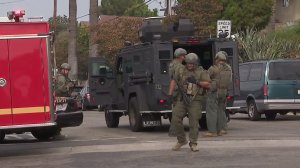 The man was discovered deceased in the 3600 block of Floral Drive after authorities making entry into the home, the Los Angeles County Sheriff's Department tweeted shortly before noon. His name has not yet been released.
Deputies first responded to the scene around 8 a.m. after receiving a "shots fired" call; Upon arrival, they found three victims running from a residence, according to sheriff's Deputy Caroline Rodriguez.
One of the victims sustained a gunshot wound to upper torso, Rodriguez said. A second victim received an unknown injury to his or her lower body.
The wounded victims were transported to a local hospital, both in unknown condition, she said.
A neighbor at the scene told KTLA that he heard what sounded like "some shots fired."
"We went outside to see what the commotion was about and it looked like two men were coming outside," he said. "One looked like he was bleeding from the leg and then the police officers drove up."
He said one of the victims appeared to be about 20 or 21 years old.
According to Rodriguez, the incident began when an individual armed with a firearm – believed to be a handgun or rifle – entered the residence. A struggle ensued with one of the victims, who lives at the home.
A short time later, another resident heard the struggle, armed himself with a handgun and went upstairs. When he encountered the suspect, the resident opened fire, according to Rodriguez.
Three residents then ran outside, where they encountered the first responders.
A SWAT team later responded to the home.
Surrounding homes were temporarily evacuated amid the barricade situation, the release stated. It was unclear how many people were impacted.
No further information was immediately released.