This is an archived article and the information in the article may be outdated. Please look at the time stamp on the story to see when it was last updated.
A man was killed after being hit by a motorist who fled the scene in Koreatown early Wednesday morning, according to police.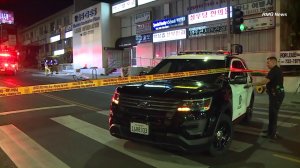 The crash occurred near the intersection of San Marino Street and Western Avenue just before 2 a.m., said Capt. Gary Walters with the Los Angeles Police Department.
The victim was traveling southbound on Western Avenue when he was struck by a white sedan, Walters said.
The cyclist, described as a Latino man in his 50s, was pronounced dead at the scene.
The driver fled without attempting to render aid but was taken into custody not far from the crime scene, Walters said, though he declined to give specific details on the arrest.
Detectives were able to locate incriminating evidence including a vehicle that matched the description of the car in the crash and had damage consistent with the hit-and-run.
No further details were immediately available.