This is an archived article and the information in the article may be outdated. Please look at the time stamp on the story to see when it was last updated.
A man carrying a rifle was arrested Wednesday on a remote hillside in Malibu Creek State Park as detectives searched for suspects in a burglary series that occurred over the past two years in and around the wilderness area.
Anthony Rauda, 42, was taken into custody on a separate warrant, and detectives will now look into whether he could be behind as many as eight break ins and just as many unsolved shooting incidents, one of them fatal, Los Angeles County Sheriff Jim McDonnell said in an evening press conference.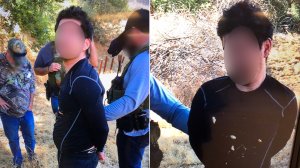 The Sheriff's Department has been sending search crews into the Santa Monica Mountains as the burglaries ramped up, and Rauda was found a little over five hours after detectives began combing a rugged area near the Agoura Hills/Calabasas Community Center, which was broken into the day before.
The suspect was located after officials spotted fresh boot prints leading up to a steep ravine about one mile north of Mulholland Highway, west of Las Virgenes Road.
"Detectives followed the boot prints approximately 50 yards," McDonnell said. "Shortly after that they heard movement amongst the brush, followed by observing a male adult wearing black clothing, walking quickly, who resembled the suspects in the burglaries."
Rauda was detained without incident around 3:20 p.m. Authorities also seized his firearm and plan to submit it for ballistics testing, the sheriff said.
However, McDonnell stressed that it's still too early in the investigation to determine whether Rauda could also be tied the shootings that occurred in the area over the past two years — beginning one month after the burglary series — including the shocking killing of Tristan Beaudette, an Irvine father shot dead June 22 while camping with his young two daughters in Malibu Creek State Park.
The popular wilderness area has remained closed since Beaudette's death as the Sheriff's Department investigates, but officials have yet to name any suspects or announce any arrests in the shocking killing.
McDonnell said it's still too soon to tell whether Rauda is suspected in all eight burglaries being investigated, much less the shootings.
The suspect was being held on a no-bail felony warrant for parole violation. McDonnell could not provide further details on the alleged parole violation, but said Rauda's prior criminal record involved, "in general terms," weapons violations and burglaries.
Authorities released images of Rauda being taken into custody, but asked that his face be blurred because they expect to show him in lineups as their investigation continues.
Burglary series notable because only food was stolen
Rauda is being investigated in connection with a string of eight burglaries that began in October 2016.
The series is notable because only food was taken in each incident, McDonnell said. They all also occurred between the hours of 2 and 5 a.m.
The most recent was Tuesday at the Agoura Hills/Calabasas Community Center, at 27040 Malibu Hills Road. The intruder used a rock to break in then raided a vending machine for food, officials said.
The same community center was burglarized over the summer, on July 27, and Tuesday's was the fourth similar incident in about two weeks, authorities said.
Brian Boudreau, who owns Malibu Valley Farms, said surveillance footage showed the burglar was armed with a rifle when he targeted the company's offices in the 26800 block of Mulholland Highway on Sept. 30. Nothing was taken beside his employees' food, Boudreau added.
The other incidents in the series occurred:
• Oct. 4 and Sept. 24, 2018, in the 700 block of Malibu Canyon Road, in the unincorporated Santa Monica Mountains area
• March 8, 2017, on the 26800 block of Mulholland Highway, in an unincorporated area of the mountain region
• Oct. 28, 2016, at a building a few miles north of Malibu Creek State Park in Calabasas
• Oct. 10, 2016, in the 26800 block of Dorothy Drive, in an unincorporated area of the mountain region
Because of the nature of the thefts, residents have questioned whether the suspect was living in the wilderness area. However, McDonnell said it's too early in the investigation to tell.
He did note that Rouda was found in rugged terrain, and deputies "certainly put themselves in harm's way to make the arrest."
Tony Hoffman, a superintendent for California State Parks, said transients are occasionally found living in the Santa Monica Mountains, but usually they stay closer to the coast, where there are more resources.
Unsolved shootings keeping residents on edge
The Sheriff's Department has dedicated a large amount of resources to recent incidents in the mountain area amid the dual investigations, initiating a tactical response when responding to the Malibu Valley Farms burglary and when a suspicious person was reported in Malibu Creek State Park last weekend.
And local residents say they've noticed an increased law enforcement presence in recent weeks. According to McDonnell, undercover officials and deputies in plainclothes have been in the area as well, and active patrols will continue despite Rauda's arrest.
Speaking at Wednesday's press conference, State Sen. Henry Stern said the region he represents has "been on pins and needles."
Along with the fatal shooting of Beaudette on June 22, detectives are investigating shootings that took place days before, on June 18; last year on Jan. 7, June 6, July 22 and July 30; and on Nov. 3 and 9 in 2016.
Beaudette is the only to die thus far, but another man was wounded in the arm, according to the Los Angeles Times.
Anyone with information on either investigation can submit a tip anonymously to Crime Stoppers via 800-222-8477 or LACrimeStoppers.org.