This is an archived article and the information in the article may be outdated. Please look at the time stamp on the story to see when it was last updated.
A 20-year-old Los Angeles man was arrested on suspicion of murder in connection with a fatal crash that left one LAPD officer dead and another hospitalized, police announced Tuesday.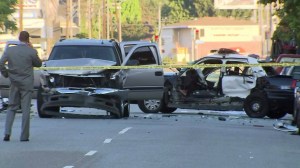 Mynor Enrique Varela was booked Tuesday afternoon and was being held without bail amid an ongoing investigation, a news release from the Los Angeles Police Department stated.
Varela was suspected of being in an early morning crash on Saturday that came while an LAPD patrol car was following a traffic violator.
An SUV slammed into the police vehicle as the patrol car made a U-turn to follow a Camaro. The SUV driver fled the scene of the crash, at Anaheim and Senator streets in Harbor City (map).
A person believed to be associated with the incident was detained and questioned by detectives on the day of the crash, police said.
Online county inmate records showed Varela was arrested early Saturday evening, then released midday Tuesday, then re-arrested by LAPD's Robbery-Homicide Division.
Officer Roberto Sanchez, a six-year veteran of the LAPD, was killed in the crash.
"Very saddened by what happened to Officer Robert Sanchez, but we're very proud of the work that detectives and investigators did… working their way toward justice," said LAPD Chief Charlie Beck.
Sanchez's partner, Officer Richard Medina, was released from the hospital, Beck said Monday.
A second person has also been arrested in the case, but Beck would not comment further.
"Two people have been taken into custody," Beck said. "I'm not going to release the details, but this will become more clear as the case moves forward."
Correction: An earlier version of this story gave the incorrect first name of the LAPD officer killed. The story has been updated.