This is an archived article and the information in the article may be outdated. Please look at the time stamp on the story to see when it was last updated.
A suspected gang member has been arrested in a shooting that killed a 27-year-old man who had been waiting for a haircut outside a barbershop in the Vermont-Slauson neighborhood of South L.A., police announced Monday.
Robert Ellis, 27, was gunned down on March 25 in the 5500 block of South Vermont Avenue as he waited to get a haircut with a group of people in front of a barbershop, the Los Angeles Police Department stated in a news release.
Ellis, who had told his mother two days before the shooting that he was going to be a father, died after being hit by the gunfire from a semi-automatic weapon.
Ellis was not a gang member and the shooter was thought to have been targeting someone else in the group, investigators said.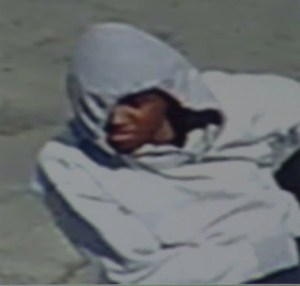 The suspect, a 22-year-old Los Angeles resident, was arrested by an FBI-LAPD fugitive task force at a hotel room in Hawthorne on the night of May 5, LAPD Detective Chris Barling said at a news conference Monday.
Tyrone Foster Jr. had "fired randomly" into a group of eight or nine people waiting outside a barbershop, Barling said. A young child was among those who fled the gunfire.
Last month, police released surveillance video and images that fairly clearly showed the gunman firing from behind a vehicle.
Tips from the public that came in after a $50,000 reward from the City Council was announced April 14 helped lead to Foster's arrest, police said. Barling and his commanding officer in the Criminal Gang Homicide Division, Capt. Peter Whittingham, both thanked the public repeatedly for having the courage to come forward.
"There is a sense, a perception, of intimidation in certain communities in this city," Whittingham said. "Gang members seem to think that they have control, dominion over certain communities. … If the communities stand up more often, let their voices be heard … that will push aside any notion that gang members rule the city."
Investigators received multiple calls regarding the shooting, Barling said.
The victim's girlfriend had been ill and lost the baby at 13 weeks, Ellis' mother said at the news conference, tearing up.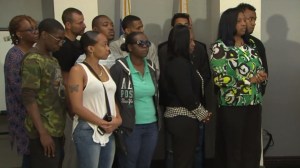 "I'm so sad," Lennell Ellis said. "I'm so sad."
In a wavering voice, she said community members need to stand up "to people that are doing things that are not right." She thanked those that came forward.
"This has all been so, so heavy on my family. It has taken a terrible, terrible, terrible toll," she said. "People don't realize what their foolish actions do to people."
The case against Foster was presented to the Los Angeles County District Attorney's Office Monday and a murder charge was filed with a criminal gang enhancement, Barling said.