This is an archived article and the information in the article may be outdated. Please look at the time stamp on the story to see when it was last updated.
A female driver was arrested in connection with a hit-and-run that claimed the life of a pedestrian in the Florence area of South Los Angeles on Sunday morning, police said.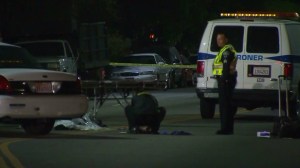 The victim, identified only as a man in his mid-40s, was crossing the street near the intersection of South Broadway and West Gage Avenue (map) shortly before 12:45 a.m. when he was hit, according to the Los Angeles Police Department.
He was about 200 feet outside the crosswalk when the vehicle struck him, LAPD Sgt. Custard said.
The man was pronounced dead at the scene.
The driver, who returned to the scene, said she thought she had run over some plastic in the roadway, according to LAPD Detetective Michael Kaden.
"She then drove home, where she remained until we located this vehicle," Kaden added.
The woman was taken into custody at 6 a.m. Her identity has not yet been released.
KTLA's Dave Mecham and Geoff Peters contributed to this report.