This is an archived article and the information in the article may be outdated. Please look at the time stamp on the story to see when it was last updated.
An arrest was made Saturday after a hit-and-run driver killed a 4-year-old girl in front of her Glendale home the previous day, Glendale police said.
Shant Badleean, a 55-year-old Glendale resident, self-surrendered sometime after Friday's deadly incident, the police department stated in a news release Saturday.
The 4-year-old, identified by family as Violeta Khachaturya, was playing in her home's yard around 5 p.m. when she ran into the street and was struck by a hit-and-run driver.
The impact threw her about 40 feet, and she landed on a vehicle's windshield, causing it to shatter, Sgt. Tom Lorenz with the Glendale Police Department said.
"It is apparent that the child unfortunately ran into the street in between two parked cars," Lorenz said.
Khachaturya was transported to Glendale Adventist Medical Center, where she was pronounced dead.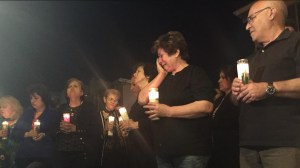 Mourners gathered at a vigil for the girl Saturday night, leaving stuffed animals, candles and flowers near where she was killed.
"It's just been very difficult, I'm having a tough time," neighbor Diane McDonald said.
A man speaking on behalf of the family said they were happy about the arrest.
"They are satisfied in a sense where yesterday they didn't know if there was ever going to be an answer," Arshak Bareghamyan said. "Finally we have seen justice served."
The little girl was described as "an angel sent from heaven, with a fun and energetic personality," on a website requesting money be donated for her funeral costs.
Neighbors, friends and relatives had set up the page, asking that $20,000 be donated.
Badleean was arrested Saturday and was expected to be charged with felony hit-and-run, the news release stated.
He was held in lieu of $50,000 bail and was scheduled to appear in court Tuesday.
[facebook url="https://www.facebook.com/ktla5/posts/10153170819409614"]