This is an archived article and the information in the article may be outdated. Please look at the time stamp on the story to see when it was last updated.
A Cal State Fullerton staffer was arrested in the on campus killing of a co-worker who was found fatally stabbed in his car on campus this week, police said Thursday.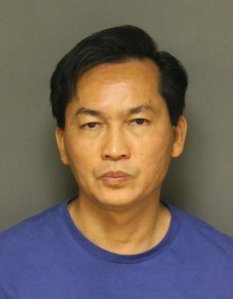 Chuyen Vo, 51, was taken into custody about 10:15 p.m. Wednesday at his residence in Huntington Beach, Fullerton Police Chief Robert Dunn said in a Thursday news briefing.
Investigators believe Vo acted alone in killing 57-year-old Steven Shek Keung Chan, but they're still working to determine a motive for the slaying, Dunn said.
The chief identified the suspect and victim as co-workers but said he couldn't comment further on their relationship, or what position Vo holds at the school.
The university says the two men both worked in its division overseeing international education. Chan retired from the school in 2017 after serving as the director of two departments but returned earlier this year as a consultant.
Ellen Treanor, a CSUF associate vice president, said she hadn't heard of any tension among study abroad administrators.
"Of all the individuals that I talked to in that division, there didn't seem to be any concerns at all that anybody would ever hurt Steve at all," Treanor told KTLA. "Not a single person said there were problems."
Treanor noted that she wasn't sure how closely together Vo and Chan worked; it's a big division, she said, and possible that they didn't work together at all.
Chan, a father who lived in Hacienda Heights, was killed on the first day of the academic year Monday, around 8:20 a.m. in the parking lot south of the College Park building. Classes aren't set to begin until Saturday, but staff and administrators were on campus preparing for the new year.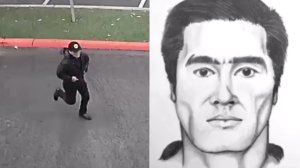 On Wednesday, investigators released surveillance video and a sketch showing the alleged assailant dressed in all black running from the scene. Police say he then ran several blocks to a Denny's parking lot on Nutwood Avenue, where he got into a newer model BMW X6 and fled.
The homicide weapon has not been found, but police did recover a backpack under Chan's car. Officials say it contained things they believe point to a kidnapping-homicide plot including an incendiary device, zip ties, wigs and another knife.
On Thursday, Lt. Jon Radus said certain items in the bag were "disturbing to say the least" and the discovery played a significant role in identifying Vo as a suspect.
Radus added that there is likely DNA evidence that could tie Vo to the crime.
"We do believe that the suspect injured one or both of his hands," he said. "We know that there is blood left at the scene by the suspect, as well as in the video you can see he's either covering his hand or there appears to be blood on his hand."
Fram Virjee, the university's president, said the investigation involved police from nine Cal State campuses.
Virjee said that while should students should "remain vigilant in supporting each other," there is no further threat to the school community.
"This was an isolated incident, and we have absolutely no information that would indicate any lingering danger to the health and safety of our campus family," he said.
Although they don't believe there's a threat, authorities say there will still be an increased law enforcement presence on campus in the coming weeks.