This is an archived article and the information in the article may be outdated. Please look at the time stamp on the story to see when it was last updated.
An arrest has been made in connection with a triple shooting last week that left three people dead in San Bernardino, including a father and his 9-year-old son, police announced Friday.
Trayvon Brown, 26, was arrested on suspicion of murder, according to a San Bernardino Police Department news release.
A jail record for Brown indicated was taken into custody by San Bernardino police about 4 p.m. Thursday in the 17800 block of Arrow Boulevard in Fontana and booked on a murder charge.
He is scheduled to make his first court appearance Monday, his inmate record showed.
The arrest was announced one week after the deadly shooting, which occurred outside of Superior Liquor store in the 2900 block of North Del Rosa Avenue.
Nine-year-old Travon Williams, his father, 26-year-old Travon Lamar Williams, and 25-year-old Samathy Mahan, were leaving the business when a gunman approached them from behind and opened fire, according to police.
"It was 30 seconds to kill three people," store manager Saifaldin Baji told the Los Angeles Times.
Investigators believed the gunman -- who had been waiting outside the store for the three males to exit -- was targeting Mahan, a documented gang member and recently paroled felon, police said. It was not yet known whether he had any connection to the father and son.
Ebony Newman, the 9-year-old victim's mother, expressed her grief after an arrest in the case was made.
"So many things I could say that I will miss about my baby, that I could see him doing right now," she said. "And it's like I could never see him in action no more. I can only close my eyes and visualize it. And it hurts."
Police also release news information about the case, detailing the alleged ties between Mahan and Brown, who authorities say is also a documented gang member. The two were apparently involved in another shooting on June 15 at 2751 N. Park Ave., which is around the corner from the location where the triple fatal shooting place, the release stated.
In the earlier incident, Brown was shot by Mahan during an altercation, police said.
Two days after the shooting in June, Brown -- who was on active probation at the time -- reported to the probation department that he had been shot in Lynwood during a robbery, according to the release.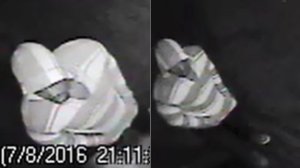 After Mahan was killed on July 8, detectives learned that Brown was seen on surveillance cameras inside the liquor store earlier in the day, police said.
Witnesses told detectives that the suspect had been looking for the victim "and was heard saying something was going to happen," the release stated.
Brown was identified in a series of photographs by a witness to the homicides; he was detained when he checked in to the San Bernardino County Probation Office Thursday and later taken into custody, police said.
Authorities had released surveillance images last Saturday morning of the suspected shooter as they sought the public's help in making an arrest in the case. Investigators have credited witnesses and tips from the community as leading to an arrest in the case.
A GoFundMe page has been created to help pay for the funeral expenses of Travon Williams and Travon Lamar Williams.
KTLA's Feven Kiflegiorgis and Matt Phillips contributed to this story.