This is an archived article and the information in the article may be outdated. Please look at the time stamp on the story to see when it was last updated.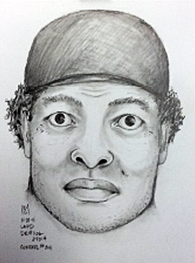 Police announced an arrest Monday in the years-long search for an armed robber and suspected killer dubbed the "Western Bandit."
Patrick Watkins, 51, was arrested Thursday following a string of robberies and shootings, which included two alleged murders, Los Angeles police Chief Charlie Beck stated during a news conference Monday.
The Western Bandit targeted an 8 mile stretch near Western Avenue from Hollywood to South Los Angeles, according to the Police Department.
The crime spree began shortly before the shooting death of a transgender woman in Hollywood on November 17, 2011.
The victim was 32-year-old Nathan Vickers, who friend's say went by the name Cassidy. She was shot and killed near the intersection of Gower Street and Lexington Avenue.
During the five years police searched for the Western Bandit, Watkins was allegedly responsible for 23 crimes, which included Vickers' death, multiple robberies, attempted robberies and assaults in which six victims more victims were shot.
The final known incident ended with the death of Larise Smith in the 2800 block of West 42nd Street on Dec. 8, 2014, Beck said.
Watkins was charged Monday with the special circumstance murders of Vickers and Smith, which makes him eligible for the death penalty, the Los Angeles County District Attorney's Office stated in a news release Monday.
Watkins was charged with a total of 53 counts, including 26 counts of attempted murder; 13 counts of assault with a firearm, five counts of shooting at an occupied motor vehicle, four counts of second-degree robbery and felon in possession of a firearm, the news release stated.
"After five years, two murders, eight shootings, 23 robberies and countless Angelinos terrorized, the man known as the Western Bandit is now in custody," Los Angeles Mayor Eric Garcetti said during the news conference. "He was a cold-blooded killer. Somebody who terrorized the streets of Los Angeles for too long."
Watkins was scheduled to be arraigned Monday afternoon, where prosecutors were expected to ask that he be held without bail.