This is an archived article and the information in the article may be outdated. Please look at the time stamp on the story to see when it was last updated.
Rescuers tried once again Wednesday to capture a Canada goose that was impaled by an arrow roughly three weeks ago.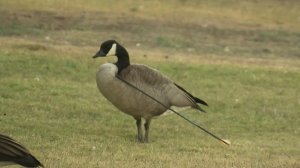 The animal control officers failed to nab the bird, but they did watch in amazement as the animal appeared to jettison the arrow and fly out of reach.
The rescue attempt — the latest in several over three weeks — began at about 7:30 a.m. when animal control officers lured the bird toward them with food. Then they tried to throw a net over the goose, but to no avail.
"We weren't able to capture it, but the arrow fell out," said Don Barre, public information officer for the Los Angeles County Dept. of Animal Care and Control. "We're happy that the arrow has fallen out. It's the best possible outcome."
Read the full story on LATimes.com.