This is an archived article and the information in the article may be outdated. Please look at the time stamp on the story to see when it was last updated.
Investigators were trying to determine whether a fire that destroyed a South L.A. home and left a family displaced on Thanksgiving was intentionally set, authorities said.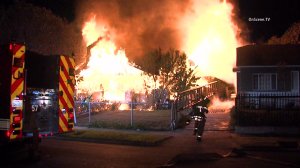 Firefighters arrived about 4 a.m. Thursday at the 1100 block of West 73rd Street, in the Vermont Knolls neighborhood, where the single-story residence was fully engulfed in flames, according to the Los Angeles Fire Department.
The blaze was extinguished within an hour by some 30 firefighters, said LAFD Battalion Chief Dale Drummond.
None of the occupants were home at the time of the fire, which caused the roof to partially collapse, the battalion chief said. No firefighters were injured.
Neighbor Diego Ochoa said his family was awakened by their dog's barking after the flames erupted at the house next door. He grabbed a garden hose and sprayed water on his home and the inferno, in an effort to prevent it from spreading.
The flames left the side of his house blackened and at least two windows blown out.
"It was kind of scary," Ochoa said, adding that he was "shaken up a little bit" but grateful that no one was harmed.
Initially, Drummond said that arson investigators determined that the blaze was intentionally set in multiple locations throughout the house after an apparent burglary.
However, another official with the department later stated that the preliminary information may have been wrong. While arson was suspected in the case, the cause was still under investigation.
Authorities were also uncertain if anything had been taken from the home.
A mother, father and their two young daughters were displaced as a result of the incident.
The family spent their Thanksgiving at Fire Station 33, where they were treated to a holiday feast and gifted with presents by local firefighters.
Although the structure was deemed a total loss, Rafael Rodriguez said he was still thankful that his family came out of the fire unharmed.
"The four lives — my family, my daughters — were untouched, and that's the most important thing," he said.
A GoFundMe page has been created to help the Rodriguez family.
KTLA's Tracy Bloom contributed to this story.