This is an archived article and the information in the article may be outdated. Please look at the time stamp on the story to see when it was last updated.
Los Angeles Fire Department arson investigators are looking for a man who they say poured gasoline over a woman and set her on fire in the Historic South Central neighborhood south of downtown, officials said.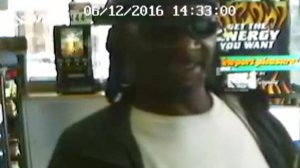 The incident was reported about 2:15 p.m. June 12 at 501 E. Vernon Ave., officials said in a news release.
The suspect, known only as "Boo Boo," was seen in surveillance footage from a nearby store buying gasoline minutes before the attack.
Investigators said he and the woman had gotten into an argument earlier in the day.
Fire Capt. Daniel Curry called the crime "cold-hearted."
"To methodically just douse her with gasoline and light her on fire, that's as shocking as you can get," Curry said.
Fire officials have canvassed the area and spoken to several witnesses, but they don't know the suspect's real name, according to  Curry. The relationship between the man and the victim was also unknown.
"This occurred in broad daylight in front of witnesses and she was critically injured while he just walked away," Curry said.
Witnesses tried to put the fire out and called for help.
The woman, who is a mother of seven, remains hospitalized at Los Angeles County-USC Medical Center with burns all over her body, officials said.
A GoFundMe page set up by her children stated she was on life support and unable to breathe on her own.
The attacker is described as a black man with brown eyes and brown hair, weighing about 180 pounds and 5 feet 7 inches tall, officials said.
He is known to frequent the area of Vernon Avenue and Avalon Boulevard.
Anyone who has information about the suspect or the incident can call the LAFD arson unit at 213 893-9800 or the Los Angeles Police Department at Newton Division at 323-846-6547.