This is an archived article and the information in the article may be outdated. Please look at the time stamp on the story to see when it was last updated.
Nearly five years after the Silver Fire destroyed some 60 structures near Banning, a man accused of purposefully sparking the blaze was arrested, fire officials said Tuesday.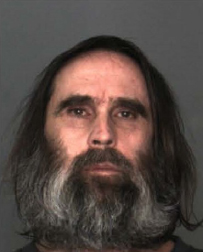 Stephen Patrick Medlock, 53, was taken into custody March 8 by sheriff's deputies in San Bernardino County after Cal Fire, which was investigating the fire's cause, obtained a warrant for his arrest, the Riverside County Fire Department said in a news release.
Authorities did not disclose what evidence they found linking Medlock to the blaze, which grew to cover about 20,000 acres in August 2013.
Among the roughly 60 structures that burned were 26 homes, largely in the Poppet Flats area, firefighters said. Several firefighters and a civilian were also injured.
The large inferno cost over $8 million to fight, firefighters estimated at the time.
Fire officials described Medlock as a transient.
He has been charged with arson to wildland and arson to property, according to the Fire Department.
The 53-year-old was being held at Smith Correctional Facility in Banning on $100,000 bail.