This is an archived article and the information in the article may be outdated. Please look at the time stamp on the story to see when it was last updated.
Authorities were looking for the people who vandalized and set on fire a 129-year-old church in Pasadena early Saturday.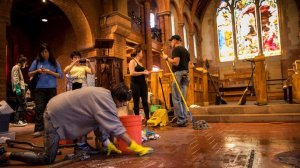 A passerby who spotted smoke near the Church of the Angels on 1100 N. Avenue 64 reported the incident around 2 a.m. The vandals broke a statue, sprayed graffiti on the walls and sparked a fire inside the building,  Pasadena Fire Department spokeswoman Lisa Derderian told the Los Angeles Times.
Los Angeles fire officials extinguished the blaze in about 14 minutes, the department said in a statement. Pasadena fire officials and police later responded to the incident and took over the investigation.
The church sustained the most damage inside, and it appeared that more than one person was responsible, Derderian told the L.A. Times.
According to a statement from the Fire Department, investigators were not treating the case as a hate crime.
Several titles, from "Since You Went Away" starring Shirley Temple to "Desperate Housewives," were filmed at the historic church. A shoot scheduled on Saturday was canceled.
Parishioner Susan Stanley said she had her wedding at the church, and that her daughter planned to do the same in February.
"Why? I don't understand," she told KTLA. "It's heartbreaking."
The Episcopal church planned to hold services Sunday morning.
It's true! We're extremely grateful for the swift response from fire fighters. Today is for clean up and assessing the damage, but we plan to be ready and open for our 7.45 and 10.15 services tomorrow. Sending up prayers of gratitude that our beautiful home is still standing. https://t.co/llPIF5NHTj

— Church of the Angels (@CoA_Pasadena) January 13, 2018