This is an archived article and the information in the article may be outdated. Please look at the time stamp on the story to see when it was last updated.
Just as California's record-setting flu season seems to be fading, with 278 deaths confirmed as of Friday, health officials warned that another infectious and sometimes deadly virus has arrived — measles.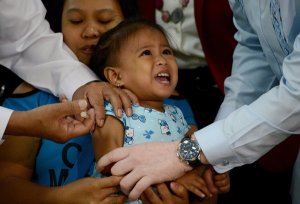 Fifteen Californians have come down with measles thus far this year, officials said. And nearly half had opted against childhood vaccination against the disease through the state's personal beliefs exemption.
"Unfortunately, we're off to a bad year in 2014," said state epidemiologist Dr. Gil Chavez, during a phone call with reporters. At the same time last year, there had been only two measles cases, he added.
The California Department of Public Health reported illnesses in six counties: five in Los Angeles County, three each in Orange and Riverside counties, and four combined in the Bay Area's Alameda, Contra Costa and San Mateo counties. None of the cases have been fatal, but measles can be deadly — and health authorities remain concerned that many more people may have been exposed to the virus.
Click here to read the full story on LATimes.com.