This is an archived article and the information in the article may be outdated. Please look at the time stamp on the story to see when it was last updated.
A veteran Los Angeles County Sheriff's Department official returned to the department in the top job Thursday, nearly a decade after he left, as the 15-year reign of Lee Baca concluded.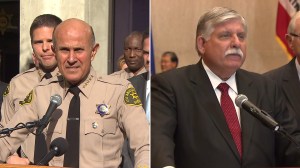 John Scott, an undersheriff with the Orange County Sheriff's Department, was sworn in at 2 p.m. to replace Baca, who made a surprise announcement earlier this month that he would step down.
He said he would take on the job with the "vigor" of a newly elected sheriff.
"I look forward to serving Los Angeles County and doing all that I can in the next 10 months to bring about the appropriate change that is in order, and see that the next elected sheriff comes in somewhat seamlessly," Scott said.
Baca's reign, which began and 1998 and ended with his decision not run for a fifth term, spanned a decline in crime but also a series of scandals and controversies.
In December, federal officials announced the indictment of 18 deputies on a variety of charges stemming from an investigation into alleged abuse at county jails. Some senior sheriff's officials were charged with conspiracy and obstruction of justice after allegedly interfering in an FBI investigation into inmate and visitor treatment at jails.
Scott, who was with L.A. County for 36 years before retiring in 2005, said his departure was motivated in part by his perception that the Sheriff's Department was headed in the wrong direction.
"I thought the direction of the department was taking a turn that I did not want to be part of," Scott told a writer for Supervisor Zev Yaroslavsky's website. "I saw diminished accountability. I saw fragmentation within the department. I saw some people who did not represent the best interests of the department."
His wife, a former sheriff's captain, retired in 2010, also disillusioned, according to Yaroslavsky's website.
Five years after becoming undersheriff in Orange County, Scott was named as Baca's interim replacement on Tuesday by the Board of Supervisors. He has said he will not run to be elected sheriff in L.A. County.
At a news conference where his selection as interim sheriff was announced Tuesday, Scott said he planned to make changes in what he called "a ship in distress."
"I will begin the process immediately — restoring both the dignity to the men and women of L.A. County, and the confidence and trust with the public that we serve," Scott said.
Baca had recommended Assistant Sheriff Terri McDonald be named as his replacement, but McDonald was found ineligible and Baca's spokesman said he was not disappointed by Scott's selection, the Los Angeles Times reported.
Banners were placed in front of the sheriff's Headquarters Bureau in Monterey Park on Thursday, stating "Sheriff Baca's Farewell" and "Thank you for your 48 years of service."
Baca's last hours as sheriff were set to be marked with no formal farewell, according to a department spokeswoman, but Baca spoke briefly to reporters at headquarters.
"I want to thank the county of Los Angeles for allowing my dream come true," Baca said, his voice cracking with emotion.
Baca had spent his last week in office filling out paperwork, saying thank you to various bureaus in person and writing letters, one of which will be delivered to the department's 18,000 employees Thursday, the Daily News reported.
Longtime sheriff's spokesman Steve Whitmore was also leaving his job, and sheriff's Capt. Mike Parker was set to replace him, the two men told KTLA.
A primary election to fill the sheriff's seat is set for June; a runoff is in November.
"Good men. Good women. I want to restore dignity to this department…and dignity to this office." – Sheriff Scott pic.twitter.com/9NDZPnXhec

— Los Angeles County (@CountyofLA) January 30, 2014
Correction: An earlier version of this post incorrectly stated the number of sworn personnel in the department. There are about 18,000 employees, including sworn and civilian personnel.