This is an archived article and the information in the article may be outdated. Please look at the time stamp on the story to see when it was last updated.
Record-breaking heat was felt across drought-stricken Southern California Tuesday, as El Niño's weather pattern effected the northern part of state more than previously expected.
Although a red flag warning was allowed to expire Monday evening, the risk of fire continued in the L.A. area Tuesday due to gusty offshore winds and hot, dry weather, according to the National Weather Service.
Unseasonably warm temperatures with record-breaking potential were expected in Los Angeles and Ventura counties on Tuesday.
Highs will peak in the 80s to lower 90s Tuesday, and taper off slightly Wednesday, according to the weather service.
As of Tuesday afternoon, several records had been broken or tied:
Elevated temperatures on Tuesday, matched with "very dry conditions," diminishing offshore winds that could include northeast gusts of 30 to 45 mph in the mountain and valley areas, and low humidity of 8 to 15 percent, increased fire danger, according to the weather service.
The warning came days after a small brush fire threatened homes in Camarillo.
Although firefighters quickly extinguished the blaze before homes were damaged, firefighters warned people to be fire ready.
The unseasonably warm temperatures occurred a week after a strong storm caused flooding in parts of Southern California — causing confusion among some as to whether El Niño had already came and went.
In the fall, forecasters predicted the chances for above-average rainfall was higher for the lower half of the state, the Los Angeles Times reports.
But the opposite came to fruition, with downtown L.A. reporting below-average rainfall and the Sierra Nevada's snowpack being 105 percent of normal.
The potential for "significant stormy patterns" remained, according to the weather service, but we may have to wait a couple weeks.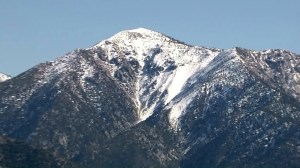 "The probability is greatest for wetter conditions than normal for, really, a good portion of California along the coast and down into the deserts," between Feb. 20 and March 4, the weather service stated Monday.
Until then, officials say the increased snowpack is good news for drought-depleted reservoirs, but in areas where temperatures are heating up, the snow is melting and turning into ice.
In Mount Baldy, treacherous-in-winter trails were closed due to "severe risk of injury," the Angeles National Forest announced Monday
"The warm weather is melting the snow and it freezes at night," Angeles National Forest spokeswoman Sherry Rollman told the Times.
The closure occurred two days after a couple lost their footing on ice, leading to the man's death.
And one week ago, another man died after slipping, although officials did not confirm whether or not ice had prompted the fall.