This is an archived article and the information in the article may be outdated. Please look at the time stamp on the story to see when it was last updated.
With both spillways badly damaged and a new storm approaching, America's tallest dam on Tuesday became the site of a desperate operation to fortify the massive structures before they face another major test.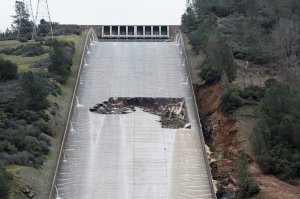 A swarm of trucks and helicopters dumped 1,200 tons of material per hour onto the eroded hillside that formed the dam's emergency spillway. One quarry worked around the clock to mine boulders as heavy as 6 tons. An army of workers mixed concrete slurry to help seal the rocks in place.
"This is an aggressive, proactive attack to address the erosion," said Bill Croyle, acting director of the state Department of Water Resources. "There's a lot of people, a lot of equipment, a lot of materials moving around, from the ground and from the air."
At the main spillway, a different and riskier operation was underway: Despite a large hole in the concrete chute, officials have been sending a massive amount of the swollen reservoir's water down the chute to the Feather River in a desperate attempt to reduce the lake's level.
Click here to read the full story on LATimes.com.