This is an archived article and the information in the article may be outdated. Please look at the time stamp on the story to see when it was last updated.
The San Gabriel Valley's Asian American population grew by 22% between 2000 and 2010, while the region's white population shrank by 17%, according to a study released Wednesday by Asian Americans Advancing Justice-Los Angeles.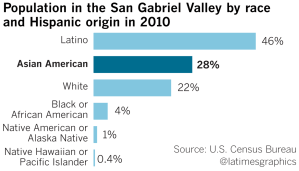 The study, titled "A Community of Contrasts: Asian Americans, Native Hawaiians and Pacific Islanders in the San Gabriel Valley," found that more than 524,000 Asian Americans live in the region, comprising more than a third of Los Angeles County's Asian American population.
The report paints a picture of a region whose demographics are increasingly immigrant. Asians and Latinos now comprise 74% of the population of the San Gabriel Valley, the study finds.
More than 2 million people live in the area, but data on the region is surprisingly scarce, said Dan Ichinose, one of the study's authors. The San Gabriel Valley lacks an official census designation, which means that studies and reports often lack the data to focus on the area, Ichinose said.
Read the full story on LATimes.com.