This is an archived article and the information in the article may be outdated. Please look at the time stamp on the story to see when it was last updated.
Joseph Gatto was remembered as a loving father and inspiring art teacher at a ceremony on Monday, nearly two weeks after the 78-year-old was found fatally shot in his Silver Lake home.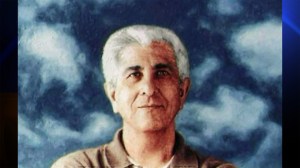 The funeral for Gatto, the father of Assemblyman Mike Gatto, was held at Our Mother of Good Counsel Catholic Church in Los Feliz. Gatto died Nov. 13.
A U.S. Army veteran, Joseph Gatto's casket was draped in the American flag.
"We celebrate Mr. Gatto's life, a life that was filled with so much love, and his ability to teach and touch so many art students, and also reflect on how much of a loving husband, father, grandfather he was," said Los Angeles Councilman Joe Buscaino, a friend of the Gatto family, outside the funeral.
Joseph Gatto founded the visual arts department of Los Angeles County High School for the Arts, retiring in 2002 after more than 45 years as a teacher there and at multiple universities and art schools in the Los Angeles region.
At one point during Monday's event, Mike Gatto asked those in the audience who had been taught by his father to stand up. Nearly half of the hundreds gathered rose from their seats.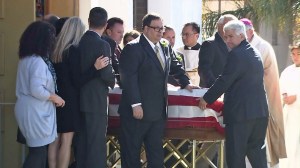 "I just remember him pushing us really hard, being super honest even though it hurt, having us believe in ourselves," former student Jesus Chaidez said.
Gatto's daughter found him shot in the abdomen in his ransacked home in the 2800 block of Bright Lane (map) in an exclusive part of Los Angeles's Silver Lake neighborhood, near a heavily used walking path around two reservoirs.
"It's been very hard. It was very sudden," Mike Gatto said last week, when police released the sketch of a man who could be linked to the slaying.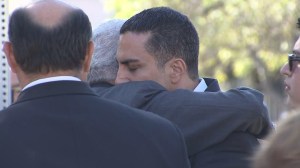 "We didn't get a chance to say goodbye," Mike Gatto said. "My father was in his late 70s, but he was going to live forever. He was so healthy. It was just so unexpected. It's very hard for the grandkids."
Joseph Gatto is survived by two brothers, three children, three grandchildren and his ex-wife.
A private reception and graveside burial for family and close friends were slated to follow the 10 a.m. funeral.
In lieu of flowers, the Gatto family requests donations be sent to one of three charities:
The Historic Italian Hall Foundation (125 Paseo De la Plaza, Suite 400, Los Angeles, CA 90012; 213-485-8432)
The Los Angeles Community Garden Council (4470 W. Sunset Blvd. #381, Los Angeles, CA 90027; 323-942-WORM)
or, The Tuition Magician, Attn: Joe Gatto Arts Scholarship (4470 West Sunset Blvd. #378, Los Angeles, CA 90027).
KTLA's Christina Pascucci contributed to this report.