This is an archived article and the information in the article may be outdated. Please look at the time stamp on the story to see when it was last updated.
After public outrage over an essay question that asked eighth-grade students to argue whether the Holocaust was an "actual event in history" or a "political scheme created to influence public emotion and gain wealth," the Rialto school board apologized at an emergency meeting on Wednesday evening.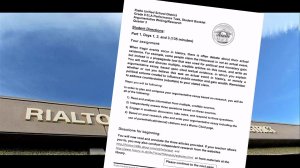 Educators were revising the assignment — which generated a national firestorm — and taking step to ensure such a project is not given to students in future.
"The board and staff are deeply sorry for the hurt, and the propagation of misinformation caused by this assignment," said board President Joanne Gilbert, reading a written statement at the meeting. "There was no intent to be hurtful, but due to a lack of critical thought and a lack of internal checks and balances, this project commenced and turned into a horribly inappropriate assignment."
The school district, which educates about 26,000 students in an area 50 miles east of Los Angeles, has been in the spotlight since a San Bernardino Sun story revealed over the weekend that eighth-graders had been given the Holocaust-questioning writing assignment.
The 18 pages of instructions provided three sources that students were expected to analyze. Test-takers were told to write an argumentative essay about the Holocaust describing "whether or not you believe this was an actual event in history, or merely a political scheme created to influence public emotion and gain wealth."
The source texts were from the websites about.com, history.com and a Holocaust-denial screed from a webpage on biblebelievers.org.au, which stated gassings in concentration camps were a "hoax" and that no evidence has shown Jews died in gas chambers.
Reaction was fierce, and the school board heard that at Wednesday's meeting.
"That Holocaust denial exists is a slander against every victim of the Nazis, alive or dead," Rabbi Abraham Cooper, associate dean of the Simon Wiesenthal Center in Los Angeles told the board.
Some 2,000 eighth-graders were given the assignment, but the district said that it received no complaints. One student at Wednesday's meeting said she was concerned, though.
"We usually don't question the teachers," said student Oyuky Barragan. "Why would they give that idea into our young society's mind that the Holocaust was not a true event and that is was all a hoax?"
Initially, school district official defended the assignment, but after the Los Angeles-area chapter of the Anti-Defamation League wrote to the school district and the Sun's report drew attention, district spokeswoman Syeda Jafri announced Monday that educators would meet to revise the assignment.
"Obviously there's a lot of concern. We have to fix this, we have to own this," Jafri said Wednesday, prior to the meeting.
Superintendent Mohammad Islam and Jafri have been the subject of death threats, Jafri said. Rialto Police Department Capt. Randy De Anda said Wednesday that a phone call traced to Connecticut included the threat of weapons use.
The case will be forwarded to the district attorney's office for investigation, though it does not appear the individual who made the threats was able to carry them out, De Anda said.
The educators responsible for the assignment were expected to be the subject of a closed session school board item Wednesday evening to discuss a "personnel matter," Jafri said.
The assignment was developed in December by a group of eighth-grade teachers working on a unit in which "The Diary of a Young Girl" by Anne Frank was to be read, the Sun reported Wednesday in a story that Jafri pointed to for more information.
"We'll put a new process in place that will have more levels of review on future topics and we'll ensure that there's no topic that could be construed as insensitive or could be left open for massive misinterpretation," Susan Levine, Rialto Unified's associate superintendent for educational services, said Tuesday, the newspaper reported.
Eighth-grade teachers will undergo sensitivity training and, along with their students, will take a field trip to the Museum of Tolerance, operated by the Simon Wiesenthal Center on Los Angeles' Westside.
KTLA's Kimberly Cheng contributed to this article.