This is an archived article and the information in the article may be outdated. Please look at the time stamp on the story to see when it was last updated.
Thirty people were hospitalized, several of them in critical condition, and the driver of a pickup truck that was struck by a Metrolink train was in police custody following a fiery wreck that caused several train cars to derail in Oxnard early Tuesday morning.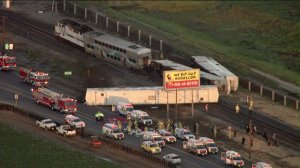 The train slammed into the truck near the intersection of East Fifth Street and South Rice Avenue (map) in Oxnard, an official with the Ventura County Fire Department said. A 911 call to police just before 5:45 a.m. reported the crash.
Police responded a few minutes later and found the truck fully engulfed in flames and three rail cars overturned. Firefighters determined no one was inside the truck.
The 54-year-old driver of the pickup truck was found nearly 2 miles away and was later taken into custody on suspicion of felony hit-and-run, police said at an early evening news conference. The driver's name was given by police as Jose Alejandro Sanchez-Ramirez.
Twenty-eight of the 50 people on the train were taken to area hospitals, with four of them critically injured, authorities said at midday.
By early evening, two more people had gone to the hospital for treatment and a fifth patient was said to have worsened and was described as being critical.  That report was later rescinded.
The train's engineer had the most severe injuries.
Twenty-two people were treated at the scene and released, according to Steve Carroll of Ventura County Emergency Medical Services.
"As you would expect from a train car that's actually rolled over … the trauma from flying around the interior of the train is quite significant, so they were legitimate patients who were transported for trauma," Investigator Joe Garces with the Oxnard Fire Department said.
A police officer on patrol found the driver of the truck walking about 1 1/2 miles south of the scene of the crash, Oxnard police Assistant Chief Jason Benites said.
The driver was found by a police patrol officer to be "disoriented," "unsettled," and "very distressed," Benites said at a news conference at about noon. Police had earlier said the man was from the Arizona border city of Yuma.
Investigators were trying to determine if he was under the influence, the assistant chief said. He was hospitalized for observation and was cooperating with police, Benites said during the noon news conference.
A few hours later, Benites said Ramirez was in police custody on suspicion of felony hit-and-run with multiple injuries.
He was booked into the Ventura County Jail, where his bail was set at $150,000, according to a news release from police.
"Given the circumstances, it's unusual that a person would go 1.6 miles away from an accident," Benites said.
But, Benites added, "it's safe to say it was not a deliberate act."
Ramirez, who has a valid Arizona commercial driver's license, was driving a 2005 Ford F-450 truck towing a trailer carrying a variety of equipment that was believed to be welding equipment, Benites said. Authorities had earlier said the vehicle involved was a produce truck.
Witnesses described a chaotic scene before dawn.
Ted Maloney said he heard the train horn as a "continuous blast." Then, he looked up and saw a "huge ball of fire."
Metrolink passenger Joel Bingham, who was not seriously hurt, said he helped other travelers.
"Everyone was very frantic. A lot of people were very injured," Bingham said. "My instinct told me help those people — let's get everybody off this train safely before anything else could happen."
A triage area was setup in the area near the crash, and first responders organized victims onto mats that identified the severity of their injuries — red for critical, yellow for severe but stable, and green for minor.
Fire officials initially said there were fatalities, but Oxnard police later said there were not.
Those treated had spinal injuries, multiple fractures, head injuries and pulmonary contusions, among other conditions, Carroll said.
The Metrolink train's engineer had severe injuries to his lungs and heart and was in the intensive-care unit at Ventura County Medical Center, said Dr. Bryan Wong, the hospital's chief medical officer. The engineer was the most critically injured of the 10 patients taken there, Wong said.
Doctors believe the engineer could make a full recovery, Wong said. The patient was able to respond to questions and squeeze his son's hand, the doctor said.
A preliminary investigation showed the conductors saw the truck early on, Garces said.
"There was early warning that the conductors did see that there was a vehicle on the tracks from quite a far distance out," he said. "The tracks here are very straight for approximately a 5-mile run before any curves."
The cruising speed for trains in the area is 79 mph, Garces said, but it wasn't known what the train's speed was during the crash.
Video taken moments after the crash showed a fire on the tracks, which burned the length of the street. Flames engulfed the railroad's crossing sign and smoke billowed into the sky.
Sky5 aerial footage showed at least four train cars had derailed during the crash. One of the four was a "bicycle car," Los Angeles Times reporter Joe Serna tweeted.
Initially, Oxnard police Sgt. Marc Amon told CNN the man had "stopped his produce truck on the tracks" and "the accident was likely avoidable."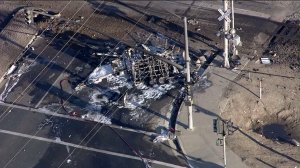 Officials later said the driver may have mistakenly turned onto the tracks because he did not know the area and possibly became stuck, according to a Los Angeles County Sheriff's Department deputy at the scene.
It appeared Ramirez had been driving southbound on Rice Avenue when attempted to make a turn onto Fifth Street but instead made a "premature" turn onto the rail tracks, Benites said. He stopped a few dozen yards down the track and became stuck, Benites said.
An attorney representing Sanchez-Ramirez told KTLA his client was unable to free his truck as the train approached.
"By the time he got out of the truck, the train was coming," Ron Bamieh said in a telephone interview. "There was nothing he was going to be able to do to stop that."
Sanchez-Ramirez was "desperate" and "trying to find help" when he walked away from the crash site, Bamieh said.
Drug and alcohol tests on Sanchez-Ramirez came back negative, according to his attorney.
Metrolink train No. 102 was the train involved in the crash, Metrolink's Scott Johnson confirmed.
The train was led by a cab car that had "collision energy management technology" installed, Johnson said. The locomotive fuel tank was located in the train's rear. The fuel tank was intact after the crash and still held 1,700 gallons, Ventura County fire Capt. Mike Lindbery tweeted.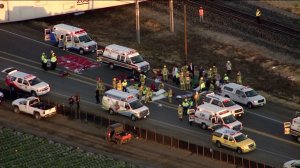 A National Transportation Safety Board "go-team" arrived at the crash site this evening.
The team was sending videos, data recorder and truck data to a lab to Washington for investigation, the agency stated.
The train was not equipped with "positive train control," a safety system slated to begin use later this year, Metrolink's Jeff Lustgarten said. The train did brake but could have taken anywhere from a quarter-mile to a half-mile to come to a stop, he said.
"I think we can safely say the technology worked. It definitely minimized the impact," Lustgarten said.
Metrolink tweeted that line 104 and 768 were canceled due to the incident. Riders were encouraged to call 800-371-5465 to check their routes. A "bus bridge" was moving passengers from Moorpark to Oxnard, Lustgarten said.
All Amtrak service between Los Angeles and San Luis Obispo — on the Pacific Surfliner — was suspended but was expected to resume on a limited basis Wednesday.
The northbound and southbound Amtrak Coast Starlight trains, which run between Los Angeles and Seattle, were also suspended Tuesday but were expected to operate with some delays on Wednesday. Amtrak passengers wanting to confirm their routes were asked to visit Amtrak.com or call 800-872-7245.
East Fifth Street and South Rice Avenue were closed off near the crash scene.
Two people were killed at the same rail crossing in June 2014 when a car and train collided, Oxnard Mayor Tim Flynn said. Two men, age 19 and 20, died in that crash when their 2004 Infiniti sedan failed to stop at the closed rail crossing arms, Oxnard police said at the time.
The city would like to have a bridge installed at the rail crossing, Flynn said.
KTLA's Kennedy Ryan, Jennifer Thang and Justin Burton contributed to this report. 
More videos: