This is an archived article and the information in the article may be outdated. Please look at the time stamp on the story to see when it was last updated.
A sheriff's deputy and a courthouse security officer opened fire on a man who was seen stabbing his estranged wife outside the courthouse in Chatsworth just after noon Monday, authorities said.
The man and woman were both hospitalized, with the former being pronounced dead at the hospital.
Authorities were initially called to the scene for a report of a man stabbing a woman, and Los Angeles County Sheriff's Department deputies responded, according to Norma Eisenman of the Los Angeles Police Department.
Witnesses said a woman arrived at the courthouse, near Winnetka Avenue and Plummer Street, driving a black Audi, with a man in the passenger seat. They began arguing.
The woman started to ask the parking attendant for help when the man started stabbing her, according to two witnesses.
Tom Feher, an attorney who saw the stabbing and the shooting, said the assailant wielded a "big knife."
"The woman was literally climbing out of the car and stumbling and running for her life toward the courthouse," Feher said. "The man was behind her, chasing her with the knife."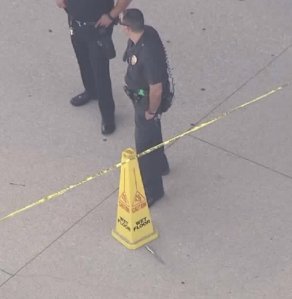 He grabbed the woman in one hand and had the knife in the other, Feher said. Deputies told him to put the knife down.
"He didn't. That's when they opened fire," Feher said.
A knife could be seen left on the pavement outside the courthouse, aerial video from Sky5 showed. Authorities on scene said it was a kitchen knife with a blade about a foot long.
The female victim came to the courthouse with her estranged husband to deal with an outstanding traffic ticket, according to sheriff's Lt. Mike Rosson.
Amid the stabbing, a sheriff's deputy and a courthouse security officer both fired on the man, and at least one bullet hit the man in the chest, Rosson said.
The man was later pronounced dead at the hospital, the lieutenant said.
The female stabbing victim could be seen receiving treatment from firefighters right outside the entrance to courthouse about 12:30 p.m.
Firefighters helped the woman, who was sitting up on the pavement about 25 feet from what appeared to be a pool of spilled blood.
She was taken to a waiting ambulance, which went to Northridge Hospital Medical Center.
Rosson said she had several stab wounds to her upper torso and numerous defensive wounds on her hands and wrists. She was in critical but stable condition.
Crime scene tape was put up around the courthouse, which was closed for the rest of the day.
The facility was expected to reopen Tuesday, the Los Angeles Superior Court announced.
The Sheriff's Department polices the county courthouses.
KTLA's Irving Last contributed to this article.