This is an archived article and the information in the article may be outdated. Please look at the time stamp on the story to see when it was last updated.
Update: Officials released new details about this crash on Saturday. An updated story is here. 
A driver ran away after a two-car crash that left two people dead and three others injured in Sun Valley on Friday evening, officials said.
The collision took place about 7:10 p.m. in the 9000 block of San Fernando Road, near Lankershim Boulevard, according to Los Angeles Fire Department spokesman Nicholas Prange.
It involved a Dodge Charger, which may have been racing another unidentified car, and a Toyota Corolla, according to Los Angeles Police Department Officer Lt. Meghan Aguilar said.
The charger was speeding eastbound on San Fernando Road, possibly racing a dark sedan, according to the lieutenant. It contained four people.
A Toyota Corolla was making a left turn from San Fernando Road to Lankershim Boulevard when it was struck "broadside," he said.
Paramedics pronounced two people inside the Toyota dead at the scene, according to Officer Jeff Lee.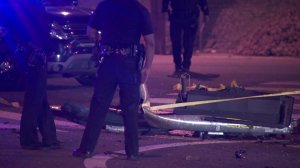 The driver of the Dodge ran from the crash scene on foot, Lee said. A search was ongoing.
A 25-year-old man and a 21-year-old woman who had been passengers in the Dodge were hospitalized in serious condition, he said. A third passenger was taken to a hospital in fair condition.
"From talking with witnesses, speed will have played a factor in this, and it possibly involves street racing between that white Dodge charger and another dark sedan… which has not been identified at this point," Aguilar said.
No further description of the dark sedan was available, police said.
Anyone with information was asked to contact the LAPD's Valley Traffic Bureau at 818-644-8000.
KTLA's Matt Phillips contributed to this report.